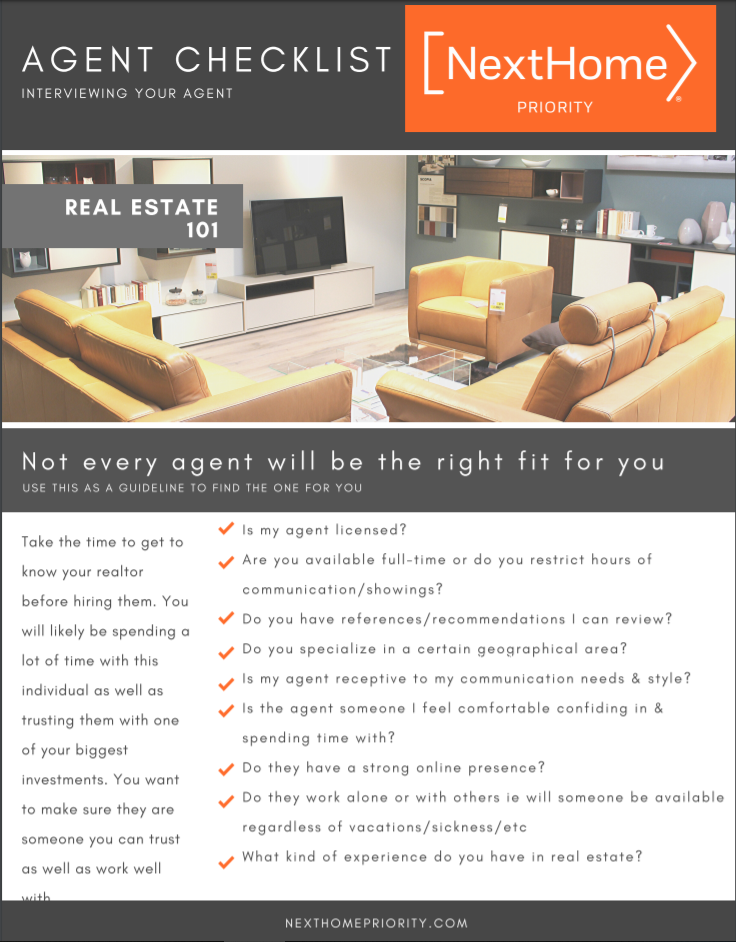 Thank you for entering your info to receive a FREE agent checklist!
Buying a home is typically the most significant investment for an individual or a family, making the process both exciting and overwhelming, especially for first-time home buyers. Understanding the process and having the right agent to assist you can make home buying enjoyable and rewarding. We are dedicated to ensuring you are well informed of the current market dynamics, the steps and commitments you will be making, as well as guiding you through the local and legal requirements to property ownership. We will look out for your risks We negotiate on your behalf and focus on our fiduciary responsibility to you, our client. Selecting an Agent-
● Review recommendations on local agents, ask your friends & family who they used and whether they had a positive or negative experience.
● Interview and select your agent. Do not be afraid to interview a few agents before deciding to work with them. Do not be pressured to sign paperwork on the first meeting before even scheduling any home showings. Do not sign listing paperwork until the agent explains to you thoroughly on how they plan on making your home sell quickly and for the best price.
● Review and sign any upfront paperwork. If you are confused on paperwork and your agent does not take the time to explain to you what you are signing and why -- be wary of trusting this agent with other steps in the home buying or selling process.
● Ask the agent if they have recommendations on local inspectors, lenders, title companies etc. Experienced agents will know others within the real estate sphere and be able to point you in the right direction for several of these scenarios. You want an agent who lenders, inspectors, etc have worked with and recommend as well. The better all of these facets work together on your transaction the more seamless the sale will be. Your agent should be a "go to" person and handle all of these moving parts throughout the entire transaction.
● Beware of agents that offer low commission, they are offering a low price for a reason. This should be a big red flag. Okay ! Now click the link below for a printable checklist to make sure there aren't any items you forget!